FONTE MARGHERITA APERITIFS
Non-alcoholic aperitifs are the latest addition to Fonte Margherita
Spritz Zero and Gin Tonica Zero are two alcohol-free and colourant-free drinks made from tasty mineral water from the Piccole Dolomiti and natural flavourings.
Spritz Zero and Gin Tonica Zero are healthy, tasty drinks in a glass bottle with a retro feel, just like the labels that have been updated in a more contemporary key.
With its delicate aroma contrasting with the bitter notes of juniper, Gin Tonica Zero is a pleasant, balanced drink for a cool, refreshing, restorative aperitif.

The history of Spritz is extremely fascinating. The story goes that, having reached a deadlock in Venice, the Austrians tried to reduce the alcoholic percentage of the Veneto wines by spraying small amounts of soda water into it.
Thus the name of the drink, from the verb "spritzen", meaning "to spray". Order it now >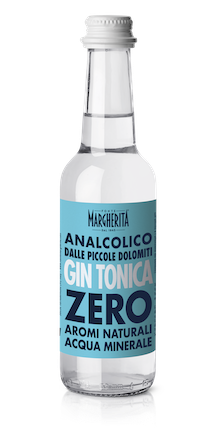 Gin Tonica Zero is a drink in a glass bottle that will make you rediscover the pleasure of bitter juniper notes.
Alcohol-free and colourant-free, it is a cool, refreshing and balanced drink with natural flavourings. Order it now >
Discover Fonte Margherita Waters